Vincent Joudart
Rosé
Côte des Blancs - Fèrebrianges
Chardonnay 45% Pinot Noir 10% Meunier 45%
Dinner aperitif
Hams
Pizza
Fish carpaccio
Grilled fish
Poultry
White meat
Barbecue
Crunchy vegetables
Vegetables
Tajine
Goat cheese
That's a fantastic Rosé, exuberant, extraordinary! Talkative and enveloping, seductive, it will attract attention and conversation. Sufficiently expressive in color, aromas and flavors, will be successful during the outdoor cocktails and picnics.
Add to the bag
Add to name
Serving and food pairings
This Cuvée must be tasted in an ample glass and around 10 ° C in order to fully appreciate its structure. To accompany it: an artichoke and cherry tomato salad, a Caesar salad with chicken, a meat pâté or terrine, a quiche of endive - apples - goat cheese, a gravelax salmon ...
Visual analysis 
The color of this Rosé is exceptional. Its color attracts immediately attention and reminds the blackcurrant juice. The effervescence, quick and lively, creates a magnificent chain of foam. The presentation is stunning, almost provocative.
Olfactory analysis 
The first nose is intense. It confirms the black currant, then the plum. We perceive a light "smoked" background and then it is the turn of plant fragrances (leaves). The second nose brings complexity with acidic notes (blood orange, pomegranate juice) and garden aromas (root legumes). Later still, we can clearly distinguish the licorice. It is a rich nose, powerful and earthy.
Taste analysis 
The first impact on the palate, is soft and effervescent. We immediately notice a gourmet note. Then the palate is tasty. Vinous and acidulous (acid - sugar), slightly tannic, it offers a dense, voluminous and caressing structure that evokes velvet. Finally, we note a beautiful retro-sense with fragrances of orange, violet and licorice.
The final 
The finish is long (10 seconds of persistence), savory (acid, sugar and a hint of elegant bitterness) and tactile.
Un colore stupendo, quasi provocante. Un naso ricco, fruttato e vegetale, con una bella evoluzione. L'attacco morbido, il palato voluminoso (vellutato), molto aromatico, avvolgente e appetitoso. Ecco un Rosé accattivante, esuberante, vinoso: un vero Champagne da cocktail all'aperto o da picnic. Tessuto: velluto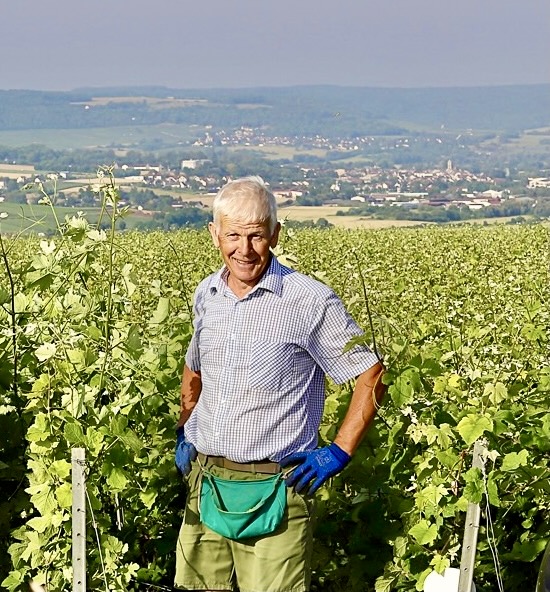 My grandparents were all settled since 4 generations
From my early age I always followed my father in the vineyards as well as in the cellar
I never thought of doing anything else in my life, it was obvious
When you love nature, cultivating and vinifying ... I find my job fascinating.
Vincent
Discover more Cuvées of Vincent Joudart